Solid vs Engineered Wood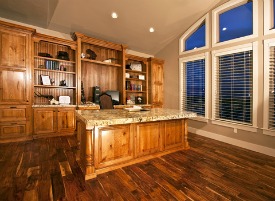 Beautiful Wood Floor in an Office
Selecting the type of wood floor to install in your house is not an easy thing to do...
While there are many options of wood flooring available on the market nowadays, the first choice you have to make before anything else is solid vs engineered wood.
These are the two main types of wood flooring and understanding the differences between them, will help you start your decision process properly.
So, let's take a good look at both of them to understand their differences, what applications can we use them for, what are the pros and cons of using each one of them.
What should you take into account before deciding between solid vs engineered wood flooring?
Differences in the manufacturing process
As you can easily imagine the difference between the two starts right in the beginning, during the manufacturing process.
Engineered flooring is a combination of few planks of wood, pressed and glued together in an overlapping pattern.
Hardwood flooring, on the other hand, is made out of one single, solid piece of wood that has been milled to the point where it became what we call a solid flooring board.
Click Here to See My Favorites Engineered Floor Brands!
Resistance to environmental changes
Because of the way they are designed, the two main types of flooring react completely different to various changes in the environment. This is why, the environmental changes represent such a big factor in the solid vs engineered wood comparison.
Engineered flooring will have a stronger tolerance to the moisture changes, due to the fact that the planks of wood that constitute its body are arranged in an overlapping pattern.

Contact Us for a Free Flooring Quote
Because of the way they are designed, the planks that are making the engineered flooring board, will always tend to move in different direction from one another with the end result being that, there is very little movement at all even under the most drastic environmental changes.
The solid floor, on the other hand is very sensitive to moisture changes. It requires a longer period of acclimatization prior to the installation and, ideally, is better to have a humidifier installed in the house in order to keep the moisture at the same level all year long.
Of course, there are differences between hardwood floor species, not all of them reacting the same way to environmental changes.
If you don't have a humidifier but would like to have hardwood flooring in your house, choosing the right species of wood as well as the right installation type is imperative.
Even though engineered floors have been installed in most of the high rise units in Chicago, due to condominium association requirements, hardwood floors can be installed in a high rise as well. All that needs to be done is the installation of a floating plywood subfloor. The hardwood floor will be nailed to the floating subfloor, creating a "gym-like" floor. Strong and comfortable, soft and durable in the same time...
Where can we use them?
When choosing between solid vs engineered wood, you will soon find out that the location of your new floor might be the decisive factor in your final decision.
Because of its increased adaptability, engineered flooring is very versatile being installed in almost any area of the home, including basements which had been a no-no for many years when it comes to wood flooring. The only area I don't, personally, recommend is the bathroom, but I have seen it installed in there as well.
The fact that it can be installed floating and glued down as well, makes engineered flooring the option of choice for the condominium units where nailing of the floor is not an option and the sound-proofed floors are a main requirement.
Hardwood floors are, almost always, the first option for people living in single unit homes. They are known for their durability, are thicker than engineered therefore offering more sanding out of it and are very customizable.
A hardwood floor, properly installed will last more than 100 years. Even though the general opinion is that they can't be installed floating, therefore making them incompatible for the high rise buildings, that is not the case anymore.
By using a combination of nailed down floor and floating plywood subfloor, the sound barrier requirements are being met, as well as the "no nails to the concrete" policy that every building has.
Other Pros and Cons, For a Better Solid Vs Engineered Wood Comparison
Hardwood floors can't be installed directly on top of a concrete subfloor. First, your contractor will have to install a plywood subfloor and nail the floor to it. Because of this, the installation of hardwood floor, if the existing subfloor is concrete, will cost more than engineered flooring.
Even though, both, engineered and solid floors can be found in both forms, unfinished and prefinished, unfinished engineered floors are more expensive. If you have in mind a certain design, that will require the installation of an unfinished floor, hardwood floor is probably the cheaper option.
Hardwood floors might squeak in the future. Because it can only be nailed down, hardwood floors require extra attention during the installation process, in order to stay squeak free for a long period of time. Unfortunately, very few contractors nowadays are taking the time to do the job right. This is why you should make sure you trust your contractor 100% before having him install your hardwood floor.
Engineered floors don't resist pet's abuse as good as hardwood floors. If you have pets, especially bigger dogs, installing hardwood floors instead of engineered is probably the better option.

Contact Us for a Free Flooring Quote
Solid Vs Engineered Wood, Conclusion
So, here you have it. Answer a few simple questions in order to find out what type of floor you will need.
What type of subfloor do you have?
Concrete goes better with engineered; plywood will work for both of them.
What kind of home do you live in?
The more affordable floor for condos is engineered flooring, while in a family home the choice is totally yours.
Do you have a humidifier or not?Hardwood is generally more sensitive to environmental changes. A good engineered floor will take the moisture changes much better than its solid floor correspondent.
Do you have any animals? If yes, hardwood is the better option.
Would you like your floor to have a beautiful border that will change the look of your home forever? Then unfinished hardwood floor is the way to go.
Inform yourself; understand your options choose the right type/species of wood and, last but not least, the right contractor and soon you will be walking on an elegant floor, in a fabulous home. Your floor, your home, your creation…
See below for more details about our unique process as well as other Chicago Hardwood Flooring articles
You Should Also Know...
What Separates Us From the Crowd...
The completion of a flooring project is always associated with stress, big mess, lots of money and time invested by you, the homeowner. We understand this and developed a process designed to protect you from these "inconveniences". Please click here for details.
Buying a product backed by a strong warranty is very important for every single one of us. Many companies learned this litle secret and are using their warranty as an advertising tool, making promises they know they can't and will never keep. We believe that putting our money where our mouth is, would be the best way to prove that our warranty is not just a piece of paper. For more details, click here and read about our warranty and why we believe it will give you piece of mind.
As much as we try to give you an insight on all the in and outs of the flooring businees, as much as we try to help you make the right choice there are always going to be these details that belong to your house and your house only. These are the details we cannot anticipate, the things we cannot write about. For more helpful flooring advice as well as a free estimate on your upcoming project, please contact us.
Floor Refinishing Advice that Will Keep You Out of Trouble...
Many times, a flooring contractor will say anything to close a sale. But is he always telling you the truth? Understand floor sanding to avoid being scammed! More details here...
Sanding a hardwood floor? This is where your contractor will try to cut some corners. Read on for details...
Some flooring stains can be harmful for your health. But if you choose the right one, you can achieve stunning looking floors, without the negative side effects. Click here for more details...
Wood Floor Choosing Tips...
When it comes to engineered vs solid flooring, most people decide based on price. But is this the best way to make a choice? There is more to it than that... Understand the differences between the two, the pros and cons of each one of them and, most importantly which one is recommended for your house, prior to buying... Click here for details!
Design, wood species, durability and installation style will, all, play a role in the overall look of your home after the installation is completed. Get a grasp of these factors and how will they affect your wood floor for years to come... Click here for details!
There are hundreds of flooring types out there, from exotic to domestic, unfinished or prefinished, engineered and solid, green or not so green. With so many options to choose from, selecting one could feel overwhelming. But if you know what to look for and if you follow the proper steps, selecting wood floors can be easy and fun... For more details, click here!
Wood Floor Maintenance Advice...
Elegance and beauty are the main characteristics of a good wood floor. But without wood floor maintenance these specific qualities will soon start to fade. Take the necessary steps to avoid that from happening. Understand the do's and don'ts of floor maintenance and you will have a beautiful floor for many years to come! All the details here...
Go to Solid Vs Engineered top of the page