Wood Flooring Benefits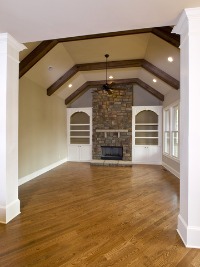 Wood Floors Equal Elegance
Every homeowner would like to get wood flooring.Carpeting as a wall to wall flooring choice is not here anymore. Wood is the option of choice nowadays.
Question is, are the benefits outweighing the extra expenses? Let's take a look at some of its benefits to decide.
Why Wood Flooring?
It Will Last Forever
Hardwood floors are the only type of flooring known to last even 100 years or more.
Unlike other type of flooring that fail the test of time, wood floors gain character and beauty as time passes by.
Your Wood Floors Will Keep You Healthy
Wood, unlike carpet, doesn't promote the collection of dust, mold, hair etc. Hardwood is a first-class option for people suffering from any kind of allergies.
Unlike carpet which cannot be entirely clean even when steamed regularly, hardwood floors are easy to be kept clean, therefore contributing to the overall health of both, you and your family.
Go From Common to Elegant with Hardwood...
The hardwood floors will give your house the elegance and sophistication that no other type of flooring will. A well designed floor will make your furniture stand out, your walls etc. Your home will feel warm and inviting, giving it that "homey feel" we all like to achieve in our houses.

Regardless of the décor of your home, traditional or contemporary; modern or retro, hardwood floors will add a touch of distinction to it. They will enhance your furniture and other accessories allowing you to create any ambiance you choose, from warm and cozy to modern and slick.
It Will Save You Tons of Money
Unlike carpet floors that need to be cleaned every 6 month and replaced every 5-10 years hardwood, once installed, it will not need any investment for a very long period of time.
The type of finishes used nowadays are so strong, they will not require refinish for at least 15-20 years, and the floor itself will probably last for generations, therefore, making the wood flooring the most economical flooring option.
The best hardwood floor cleaner is sitting right in your kitchen cabinet. Mix 1 cup of vinegar in a gallon of water, take a mop out of the closet and you are half way done cleaning your wood floor. Always make sure to use a damp mop, because excess humidity can damage your floor.
Having Hardwood Will Save You Time and Energy
All it takes to keep a hardwood floor clean is a little mopping. No steaming, no vacuuming, no time or energy consuming tasks. Use the time saved to spend it with your loved ones.
Go out and enjoy. You deserve it.
Wood Floors Will Sell Your House
You know that, one day, you will be looking for a different property. We all do. This is why, before choosing the type of floor for your house, you wanna think about how will this choice impact the selling process. Hardwood flooring had been for a long time, one of the first features home buyers are looking for, when searching for a home.
Having hardwood flooring in your home, it will definitely increase its value; it will attract more prospects, therefore, making it a hot item on the housing market. If selling is something you have in mind, either now or in the future, wood floors are the option to go for.
Hardwood Floors are Versatile, Affordable, Unique...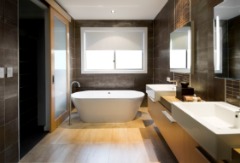 Versatility - Wood Floors in a Bathroom
Wood floors, now, can be installed almost anywhere in the house, even in the kitchens and powder rooms as long as you choose them accordingly.
Wood Floors are Affordable
Not many years ago, hardwood flooring represented an option available exclusively for the people with high income. This is not the case anymore. Today, the pallet of wood flooring options is huge, varying from very affordable to very expensive. A good flooring professional can turn an affordable flooring material into a "million dollar" looking floor.
Uniqueness
The huge array of wood essences, width, patterns along with the multitude of stains and finishes available will offer you the opportunity to create a floor like no one else before. Use your senses, listen to the advice from your contractor and you will finally bring in your home the one element that will make it unique, drastically enhancing its appearance and style.
Wood Flooring Benefits - Conclusion
If you are looking to upgrade the flooring of your home, hardwood floors are the best option to look at. They are versatile, elegant, healthy, durable and, equally important, affordable. Inform yourself, hire the right flooring professional and you will never regret the choice you made.
Return to the beginning of wood flooring benefits or see below for more details about our unique process as well as other Chicago Hardwood Flooring articles
You Should Also Know...
What Separates Us From the Crowd...
The completion of a flooring project is always associated with stress, big mess, lots of money and time invested by you, the homeowner. We understand this and developed a process designed to protect you from these "inconveniences". Please click here for details.
Buying a product backed by a strong warranty is very important for every single one of us. Many companies learned this litle secret and are using their warranty as an advertising tool, making promises they know they can't and will never keep. We believe that putting our money where our mouth is, would be the best way to prove that our warranty is not just a piece of paper. For more details, click here and read about our warranty and why we believe it will give you piece of mind.
As much as we try to give you an insight on all the in and outs of the flooring businees, as much as we try to help you make the right choice there are always going to be these details that belong to your house and your house only. These are the details we cannot anticipate, the things we cannot write about. For more helpful flooring advice as well as a free estimate on your upcoming project, please contact us.
Floor Refinishing Advice that Will Keep You Out of Trouble...
Many times, a flooring contractor will say anything to close a sale. But is he always telling you the truth? Understand floor sanding to avoid being scammed! More details here...
Sanding a hardwood floor? This is where your contractor will try to cut some corners. Read on for details...
Some flooring stains can be harmful for your health. But if you choose the right one, you can achieve stunning looking floors, without the negative side effects. Click here for more details...
Wood Floor Choosing Tips...
When it comes to engineered vs solid flooring, most people decide based on price. But is this the best way to make a choice? There is more to it than that... Understand the differences between the two, the pros and cons of each one of them and, most importantly which one is recommended for your house, prior to buying... Click here for details!
Design, wood species, durability and installation style will, all, play a role in the overall look of your home after the installation is completed. Get a grasp of these factors and how will they affect your wood floor for years to come... Click here for details!
There are hundreds of flooring types out there, from exotic to domestic, unfinished or prefinished, engineered and solid, green or not so green. With so many options to choose from, selecting one could feel overwhelming. But if you know what to look for and if you follow the proper steps, selecting wood floors can be easy and fun... For more details, click here!
Wood Floor Maintenance Advice...
Elegance and beauty are the main characteristics of a good wood floor. But without wood floor maintenance these specific qualities will soon start to fade. Take the necessary steps to avoid that from happening. Understand the do's and don'ts of floor maintenance and you will have a beautiful floor for many years to come! All the details here...