Polyurethane Floor Finish
The polyurethane floor finish has been around for ages and it is, still, after so many years the product of choice for many Chicago homeowners as well as Chicago flooring contractors...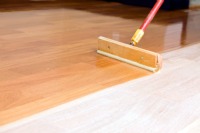 Chicago Floor Refinishing
But, is polyurethane the best option for your Chicago hardwood floor refinishing project?

Let's analyze it from your perspective and find out…

Looks
In terms of looks, polyurethane doesn't impress as much. It has a yellowish color that deepens as time goes by.
It doesn't protect the wood as much against UV solar rays, in comparison to its competitors. On a scale from 1 to 10 I would probably give the polyurethane wood floor finish a 4 when it comes to looks.

But, always remember that old Latin saying "de gustibus non est disputandum", there is no disputing about tastes.

Don't take my word for it. Before making your choice, compare a polyurethane finished sample with the other types of finish your Chicago flooring contractor might offer.

Understand all the details about floor finishes, compare and then, only then, decide.

Staining the Wood Floor
If you are looking to have your newly sanded wood floors stained, polyurethane is probably a good choice to go for.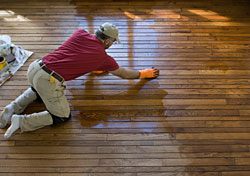 Man Staining a Hardwood Floor
While, when applied on top of a raw, natural hardwood floor the polyurethane floor finish lacks in the aspect department, when it comes to hardwood stains, polyurethane floor finish is one of the friendliest finishes to use.

It could be applied on top of most of the stains, which isn't recommended for most of the other finishes.

Odor and Toxicity
When it comes to toxicity, you should be aware of the fact that polyurethane floor finish is not the healthiest product around.
While not as bad as the Swedish finish polyurethane, in most cases, still has a pretty big VOC content. If you are looking for a clean, healthy product, finishes like Monocoat are a much better option.

But, if you are looking for a healthy floor finish, make sure you compare floor samples prior to selecting the finish to go for. These finishes are not only different in terms of toxicity, their aspect after the completion of the project will be different as well.

Contact Us for a Free Flooring Quote
Make sure you are comfortable with the way the floor finish looks on the sample, before making your pick.
As for the odor emanated by the polyurethane floor finish, for most people, this is not much of an issue. While the smell is definitely there it's not nearly as bad as the one emanated by the Swedish finish, for example.
Synteko, one of the most used floor finishing products it is believed to be so toxic that in some states, like Massachusets, its application is illegal.
Time Away From Home

There are people that prefer to leave the house during a Chicago floor refinishing project, while others would stay in and deal with the inconveniences.
In some cases staying is not even an option…
Regardless of how you prefer to do this, the duration of the project is an important aspect to have in mind.

You want to deal with this problem for as short of a period as possible.
Unfortunately, in the case of polyurethane this is the one area you will have to sacrifice the most in.

The polyurethane floor finish requires a minimum of two coats, ideally three, in order to gain strength and beauty. To make the matters even worse, there is a 24 hr waiting period between coats.

If getting it over with as fast as possible is your priority a Swedish finish or water-based finishes are all a better option than polyurethane.
Price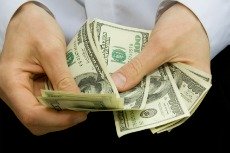 Is Polyurethane a Pricey Option?
When it comes to price paid for the product alone, the polyurethane floor finish is one of the best.

Still, before you decide to buy the product, you need to remember the other costs associated to using polyurethane.

Time, usually, means money and if this rule applies to you as well, the fact that polyurethane floor finish requires so many coats will extend the length of your Chicago flooring project considerably in comparison to other products.

Also the fact that your Chicago flooring contractor has to spend few extra days in order to complete the project will cost you extra as well.
DIY
If you are going to do the project yourself, polyurethane is probably a good option to use. Polyurethane is fairly easy to use providing that you understand the proper floor finishing steps.
Unlike other products like Water-based finishes or the Swedish finish that dries almost instantly making the job look amateurish, when done by a person with limited tools and skills, polyurethane will give you sufficient time to work with.

Contact Us for a Free Flooring Quote
Still, being able to detect missing spots, knowing where to stop when working with more than one room as well as understanding the proper application technique are all important aspects you need to control for applying polyurethane in a successful manner.

So, unless you are confident in your ability to do the project professionally, you should consider hiring a Chicago wood flooring contractor for the project.
Resistance to Wear and Tear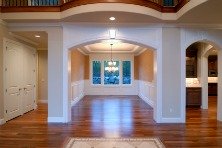 Beautiful Chicago Hardwood Floor
If strong floor finishes is what you are after, if you have house pets or simply don't care enough to protect your floor properly against excessive abuse from others or even yourself, I would strongly suggest that you choose a different type of finish than the polyurethane floor finish.

Polyurethane, in my opinion, is simply not the most resistant type of finish available on the market.

If strength alone is what you're after, choosing a Swedish finish is a much better option.

Unfortunately, using the Swedish finish has its price, since it is such a toxic product.
So, if you are looking for a strong finish that is not toxic either, Monocoat is a great option, which I personally recommend.

Still keep in mind that while some hardwood floor finishes are stronger than others, all of them eventually get damaged if abused.
This is why, understanding wood floor maintenance is so important.
Touch Ups
When it comes to touch ups, polyurethane is easy and difficult in the same time.
Depending on the choices you have made prior to starting the project, you might be able to finish the project yourself or you might need to hire a Chicago flooring company to do the job.

Generally speaking, for natural floor finishes where there isn't any flooring stain underneath the finish, touching up polyurethane is easy on mat finishes and it gets harder the shinier the finish is.
This is why you might want to think again before choosing that beautiful ultra glossy polyurethane floor finish for your floor.

Also, if the hardwood floor was stained, prior to applying the floor finish touching up becomes a lot harder and I strongly recommend you not to attempt doing it yourself.

Go to polyurethane floor finish top of the page.

You Should Also Know...
What Separates Us From the Crowd...
The completion of a flooring project is always associated with stress, big mess, lots of money and time invested by you, the homeowner. We understand this and developed a process designed to protect you from these "inconveniences". Please click here for details.
Buying a product backed by a strong warranty is very important for every single one of us. Many companies learned this litle secret and are using their warranty as an advertising tool, making promises they know they can't and will never keep. We believe that putting our money where our mouth is, would be the best way to prove that our warranty is not just a piece of paper. For more details, click here and read about our warranty and why we believe it will give you piece of mind.
As much as we try to give you an insight on all the in and outs of the flooring businees, as much as we try to help you make the right choice there are always going to be these details that belong to your house and your house only. These are the details we cannot anticipate, the things we cannot write about. For more helpful flooring advice as well as a free estimate on your upcoming project, please contact us.
Understanding how and what to choose, for your floor will determine the lenght and quality of your wood floor for many years to come. We understand all this and put together a series of articles that will help you make an informed decision. Please click here to browse through them. Learning the insights of this business will give you the edge in your relationship with different vendors or flooring contractors.