About Us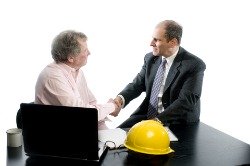 We Know What You Want
Trusting a Chicago flooring contractor with your home for a few days is not an easy thing to do...
Are they going to get the job done right? Are they gonna protect your home properly? How about their warranty? Are they gonna deliver on it?
These questions as well as many other will come to mind prior to hiring a Chicago flooring contractor.
We understand all these which is why we've decided to give you a glimpse at our past.
Hopefully, this will give you an idea on who we are and how we got here.
Please understand that it took a long way to get to where we are today, which is why we had to break it in two different parts:
You Should Also Know...
What Separates Us From the Crowd...
The completion of a flooring project is always associated with stress, big mess, lots of money and time invested by you, the homeowner. We understand this and developed a process designed to protect you from these "inconveniences". Please click here for details.
Buying a product backed by a strong warranty is very important for every single one of us. Many companies learned this litle secret and are using their warranty as an advertising tool, making promises they know they can't and will never keep. We believe that putting our money where our mouth is, would be the best way to prove that our warranty is not just a piece of paper. For more details, click here and read about our warranty and why we believe it will give you piece of mind.
As much as we try to give you an insight on all the in and outs of the flooring businees, as much as we try to help you make the right choice there are always going to be these details that belong to your house and your house only. These are the details we cannot anticipate, the things we cannot write about. For more helpful flooring advice as well as a free estimate on your upcoming project, please contact us.