Swedish Finish
The Swedish finish is another favorite wood floor finishing product for many Chicago homeowners...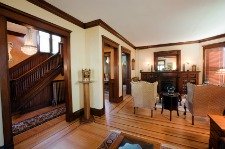 Beautiful Chicago Floor
Famous for its strength and durability, this wood flooring finish has many well known qualities and some defects that nobody wants to talk about.

Being aware of both is very important in order to avoid any unpleasant surprises.

Let's take a look at this hardwood floor finish and analyze both its strengths and weaknesses.

Looks
Many homeowners choose the Swedish finishes specifically for this.
Unlike polyurethane than turns yellow after a while, the Swedish finish keeps its color and it preserves the natural look of hardwood floors way much better.

If you are interested in a finish that keeps its original look for a long time, the Swedish finish is definitely one of the candidates for the job.

Staining the Wood Floor
If stains is what you're going after the Swedish wood floor finish presents a series of advantages and disadvantages as well.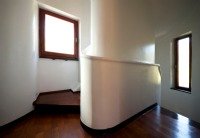 Elegant Dark Floors
Unlike polyurethane that looks pretty dull on top of a natural floor, the Swedish finish looks beautiful and drastically enhances the aspect of natural hardwood floors.
On the other hand, when it comes to flooring stain finishes, the Swedish floor finish is not the best option to go for due to its partial incompatibility with oil based stains.

While not impossible to apply on top of hardwood flooring stains, it is challenging to the inexperienced contractor.

So, if you want to have your floors stained and finished with Swedish wood floor finish, make sure you hire a contractor that has a lot of experience.

If you are looking for a finish that works both on natural floors as well as stained floors, Monocoat would be the option to go for.

They have their own line of stains, so the issue of compatibility or lack thereof, has been completely eliminated.
On top of it, the finish is beautiful and very strong as well.

Contact Us for a Free Flooring Quote
Odor and Toxicity
Toxicity is probably one of the biggest concerns when it comes to Swedish floor finishes. The issue is so big that in some states, like Massachusetts, it is against the law to use it.

So, prior to using a Swedish floor finish in your house make sure you understand its level of toxicity very well.
If toxicity is an issue and if you are looking for a cleaner, healthier type of floor finish, the Monocoat line is the product you are looking for.

Odor
If there is a bigger problem with Swedish floor finishes than toxicity that is, without any doubt, the odor. There simply is no comparison with any other products in this department.
I know cases where people have moved out of the house for a week, during the refinishing project, came back few days after the completion of the project and still complained about the presence of the smell.

Even those that are ok with the fact that is considered to be a very toxic product have a hard time dealing with the fumes left behind by this floor finish.

If you are allergic to strong chemicals or if you have kids I recommend you to make a different pick. Water-based finishes are good choices from this point of view as well as the Monocoat floor finish.
Synteko, one of the most used floor finishing products it is believed to be so toxic that in some states, like Massachusets, its application is illegal.
Time Away From Home

There are people that prefer to leave the house during a Chicago floor refinishing project, while others would stay in and deal with the inconveniences.
In some cases staying is not even an option…
Regardless of how you prefer to do this, the duration of the project is an important aspect to have in mind.

You want to deal with this problem for as short of a period as possible.
Fortunately, in the case of Swedish finishes timeliness is not an issue.
Being a dry fast finish, the Swedish finish will dry within 10-30 minutes after the application, allowing for the floor to be rebuffed, vacuum and recoated.

If getting it over with is your priority the Swedish floor finishes are definitely the option to go for.

One piece of advice though: do not ever apply three coats of finish in the same day. Doing so it will, very likely, have consequences later on…
Price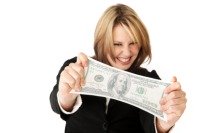 Is Swedish Finish a Pricey Option?
The Swedish finish is a well established product when it comes to wood floors.
Everybody knows its strengths and very few discuss its weaknesses.

But all these qualities come with a price.

So, to make the long story short, pricewise, the Swedish wood floor finish sits "on the upper shelf".

If you are looking for a more affordable product, polyurethane should be the choice to go for. Still, before you rush into buying a bucket of polyurethane floor finish, understand that you will lose on quality and it will take longer to complete the project if you go that way.

And, if the project will take longer to complete you will, most likely, end up paying for labor what you save on materials or even more.

Contact Us for a Free Flooring Quote
DIY
When it comes to DIY projects, the Swedish finish is definitely not a good choice. Swedish finishes are two parts products that require mixing the proper quantities prior to starting the job.
On top of it, the Swedish floor finish it normally dries very fast, which means it requires a fast application. An inexperienced person will, most likely, end up leaving drops, overlapping marks or missing spots behind.

If you are going to refinish the floor yourself, I suggest you use polyurethane. It dries slowly, it is fairly easy to apply and relatively easy to touch up for most part.

Resistance to Wear and Tear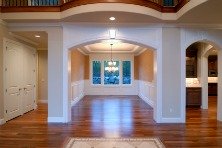 Beautiful Chicago Hardwood Floor
If strong floor finishes is what you are after, if you have house pets or simply don't care enough to protect your floor properly against excessive abuse from others or even yourself, the Swedish finish is definitely a good option.

The main reason for which most people decide to order Swedish finish, in spite of its awful smell and high toxicity levels is its generally accepted strength.

Still, you should never forget the fact that, while being much stronger than other type of finishes like polyurethane and water-base products, the Swedish finish it's, still, a floor finish too.
Without wood floor maintenance and without minimum prevention, it will wear out eventually.

And no, the Swedish finishes are not scratch proofed either. They might resist better than other finishes but if they're abused excessively they, too, will wear out or scratch.
Touch Ups
When it comes to touch ups, the Swedish finish is not the friendliest of all. It works better than some but worse than others.
On top of it, since touch ups are supposed to be done, without you leaving the house, the issue of odor and toxicity is also an important one to keep in mind.

You might be able to do a decent touch up on a floor finished with this material but, if you want an easy to touch up finish, I recommend you to go for the Monocoat line.

Go to Swedish Finish top of the page or...

Check out the polyurethane floor finish analysis...
Or the water based wood floor finish analysis...
You Should Also Know...
What Separates Us From the Crowd...
The completion of a flooring project is always associated with stress, big mess, lots of money and time invested by you, the homeowner. We understand this and developed a process designed to protect you from these "inconveniences". Please click here for details.
Buying a product backed by a strong warranty is very important for every single one of us. Many companies learned this litle secret and are using their warranty as an advertising tool, making promises they know they can't and will never keep. We believe that putting our money where our mouth is, would be the best way to prove that our warranty is not just a piece of paper. For more details, click here and read about our warranty and why we believe it will give you piece of mind.
As much as we try to give you an insight on all the in and outs of the flooring businees, as much as we try to help you make the right choice there are always going to be these details that belong to your house and your house only. These are the details we cannot anticipate, the things we cannot write about. For more helpful flooring advice as well as a free estimate on your upcoming project, please contact us.
Understanding how and what to choose, for your floor will determine the lenght and quality of your wood floor for many years to come. We understand all this and put together a series of articles that will help you make an informed decision. Please click here to browse through them. Learning the insights of this business will give you the edge in your relationship with different vendors or flooring contractors.