Floor Sanding: Myths, Facts and Outright Lies
Make the difference between floor sanding myths and reality to avoid being scammed...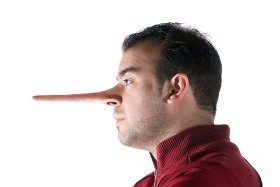 Watch Out For Liars
The amount of floor sanding literature available nowadays is huge. If you speak with three different contractors about this topic, you will hear at least two different opinions on certain topics.
So, how do you know what is true and what isn't. How can you tell the difference between facts, myths and outright lies?
Let's take a look at some of these topics and try to separate the myths from the facts.
Floor Sanding Myths
Floor Sanding Myth #1: Dustless Flooring is Dust FREE.
Nothing is further from the truth. While the technological advances in the area of floor sanding made it possible to drastically decrease the amount of dust left behind, expect to see some dust once your project is finished.
Remember, it is called DUSTLESS for a reason. If there was virtually no dust, the marketing people would've taken advantage of this aspect, and call it DUST FREE.
Floor Sanding Myth #2: Recoating Every 2-3 Years Will Keep Your Floor in Best Shape
With the economy being the way it's been lately, I am hearing more and more from customers that are being offered all kind of long term finish maintenance plans by various Chicago flooring contractors. Do not fall for these stories. They are nothing more than attempts to get your money.
Floor finishes nowadays are strong, long lasting finishes. There is no need for any type of "contractor performed" maintenance in order to keep them in good shape.
Please read this article about one of the strongest floor finishes on the market!
Depending on how good you take care of your floor, floor sanding should happen only once every 10-20 years. I've sanded my floors over seven years ago and, judging by the way they look, I don't think I will touch them again for at least another decade.
Some of the problems associated with improper job preparation, in the case of floor sanding, are flooring stain on baseboard, doors and trim, dust in the duct system, and bubles in the finish. If you want to avoid these problems as well as many others, proper project preparation is essential. Prior to signing the contract, make sure your floor contractor will provide all these.
Floor Sanding Facts
Floor Sanding Fact #1: The Type of Floor Finish Will Determine the Length of It
This one is, somewhat, true. While some finishes are more durable than others, they will all last a long time, if properly applied.
Make sure your contractor applies the proper number of coats, allows sufficient drying time between coats, doesn't combine incompatible stains and finishes, always buffs between coats and your floor won't need refinishing, most likely, for as long as you'll stay in the house.
Also, make sure your contractor won't skip these important steps!
Floor Sanding Fact #2: The Compatibility of Stains and Finishes is Imperative for a Lengthy Finish.
Yes, yes, yes!!! After being in the business for so long, it amazes me how many contractors fail to learn this lesson. The application of water based finishes on top of oil based stains in the same day, it is one of the most common mistakes made by the flooring contractors.

Contact Us for a Free Flooring Quote
If you decide to stain your floor, make sure your contractor uses compatible stains and finishes, or it takes the necessary steps to ensure proper bonding between the two.
Waiting a minimum of 24 hrs, between the application of the stain and the application of the water based floor finish, has proved effective for us.
Combining two incompatible products it will, sooner rather than later, cause your finish to peel off.
The only way to fix this mistake is by re-sanding your floor.
Not sure what stain color to choose? This article will show you how to choose flooring stains!
Floor Sanding Fact #3: Sanding a Hardwood Floor Can be Dangerous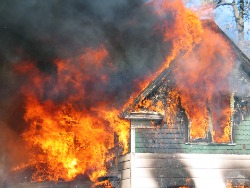 Safety 1st: This Could be Avoided Easily!!!
Yes, improperly executed sanding projects can put your house in danger. The danger of fire to be more exact... In order to avoid these types of problems make sure you follow these steps:
• Ensure that your contractor will properly connect the belt sander inside the fuse box. The belt sander should be connected using a cable that has a fuse which will be plugged inside the box. Do not accept any lose wires to be connected to the fuse box by the flooring contractor.
• Make sure your contractor empties all the bags from the sanding tools and takes the filled garbage bags out of the house at the end of the day. Unattended bags, full of dust collected from the old floor, can heat up and catch in fire.
• Do not allow your contractor to smoke in the house. Once the cigarette is finished it needs to be thrown somewhere, and the best spot for most of the guys seems to be the garbage bag. It makes sense, no? Well, when you mix improperly extinguished cigarettes, wood dust and highly flammable old lacquer, it doesn't make as much sense anymore. It usually makes for a good fire...
• Stop the water heater pilot. Many times the vapors emitted by some finishes will reach the water heater pilot and catch on fire. In order to stop this from happening, stop the water heater pilot during the floor finishing process; ventilate the house after the finish had dried and than restart it again.
Your Safety it's Very Important. Hire a contractor you can trust!
Floor Sanding Lies
Floor Sanding Lie #1: Floor Sanding it's Just That: Sanding.
Floor sanding implies more than just the actual sanding. Many contractors will bid their projects based on the assumption that they will come in, sand the floor quickly, apply two coats of dry fast finish, collect their money and leave.

Contact Us for a Free Flooring Quote
Remember, this is your home. Floor sanding, even when estimated on the cheap side, is still a significant investment. If you will invest such a significant amount of money, and go through all the inconvenience you should make sure that you will get a beautiful floor in the end. Sanding alone won't give you that.
Project preparation, nail setting, filling up all the holes and dents your floor might have, the replacement of various broken boards are all steps that are part of the sanding process.
Discuss these steps with your flooring contractor and make sure they will be part of your floor sanding contract.
Floor Sanding Lie #2: We Can See the Nails, The Floor Can't Be Sanded
Many times, because of a weak underlayment or because of improper floor installation many years before, the floor will start moving and some nails will push themselves up.
The fact that you see some nail heads is not always an indication that there is no more sanding left on your floor.
Still, some contractors will try to play that game in an attempt to make you remove the old floor and have a new one installed, therefore increasing your final bill many, many times.
Don't be fooled by these type of claims. Always ask for more proof before accepting to remove a floor that has, most likely, tens of years of life left in it.
Floor Sanding Lie #3: We Will Sand Your Floor for Half the Price Our Competitors Charge
In these economic times, many people fall for this one in an attempt to save some money on their flooring project. Still, most of the time they end up paying more by the time the project is over and get through a lot of headaches in the process.
Before you make this mistake, make sure you are not comparing apples to oranges.You need to remember, there is no such thing as a free lunch in this world.
So, ask your contractors the following questions:
Is project preparation included and what's included in it?
What steps are you going to take, to protect my home?
What are the steps included in the floor sanding process?
How many paper grids are going to be used for sanding my floor?
How many coats of finish are you going to apply and what type?/
Is the finish going to be free of VOC's ?
As you ask your questions, don't be surprised if your contractor will look surprised and won't be able to answer some or most of them.
This is normal since most of these so called "cheap contractors" don't "bother" dealing with these type of "details".
So, as you can see, sanding a hardwood floor requires some decision making. But, if you inform yourself and hire the right contractor the decision process will be greatly simplified and the results will be gratifying.
Your house will look new again, and it will stay this way for many years to come.
Go to Floor Sanding Myths top of the page or see below for more articles about Chicago hardwood floors.
You Should Also Know...
What Separates Us From the Crowd...
The completion of a flooring project is always associated with stress, big mess, lots of money and time invested by you, the homeowner. We understand this and developed a process designed to protect you from these "inconveniences". Please click here for details.
Buying a product backed by a strong warranty is very important for every single one of us. Many companies learned this litle secret and are using their warranty as an advertising tool, making promises they know they can't and will never keep. We believe that putting our money where our mouth is, would be the best way to prove that our warranty is not just a piece of paper. For more details, click here and read about our warranty and why we believe it will give you piece of mind.
As much as we try to give you an insight on all the in and outs of the flooring businees, as much as we try to help you make the right choice there are always going to be these details that belong to your house and your house only. These are the details we cannot anticipate, the things we cannot write about. For more helpful flooring advice as well as a free estimate on your upcoming project, please contact us.
Understanding how and what to choose, for your floor will determine the lenght and quality of your wood floor for many years to come. We understand all this and put together a series of articles that will help you make an informed decision. Please click here to browse through them. Learning the insights of this business will give you the edge in your relationship with different vendors or flooring contractors.