The Green Flooring Alternative
Some are greener than the others...
Bamboo Flooring Not As Green
Green flooring has been taking over the wood flooring business, too. More and more people are thinking about the impact of their choices on the environment.
Many times they are trying to make the right choice, even if that means paying a little more.
But are all the eco-friendly floors as green as they say?
Let's take a look and find out.
Bamboo Flooring
The green flooring with "shady" shades of green
The most popular type of environmental flooring, bamboo, is rarely as green as advertised. A short analysis of this product will immediately show you bamboo's promoted strengths as well as some of its unknown weaknesses.
Being a grass, instead of a tree, bamboo doesn't need to be replanted in order to grow back to becoming the plant it was prior to the harvest. This is exactly why they call it a green product.
But let's analyze it a little further, and decide, is it really as green as advertised? Truth being said, not always.
While cutting a grass instead of a tree might have its advantages, bringing bamboo flooring to the States requires huge amounts of petroleum, therefore drastically diminishing its shades of green.
Another thing to keep in mind, is that you are not looking just for green flooring, you are looking for a quality flooring material.
The price of bamboo flooring varies greatly from 3$ a square foot all the way to 7 – 8$ a square foot.
Why such a big gap, you might want to ask yourself before deciding what to buy.
The answer, you might've realized by now, relays in the quality of the finished product.
It takes about 6 month for a bamboo plant to reach the point where it can be cut and transformed into flooring, cheap bamboo flooring I might say, but it takes about 3-4 years for the same plant to reach maturity and, along with it, full strength becoming the green flooring material it was intended to be.
Cutting it before it reaches maturity will cause the final product to be soft, easy to dent and damage.
As you probably guessed already, many manufacturers, in China, will choose quantity over quality.

Contact Us for a Free Flooring Quote
Another aspect to take into consideration is the adhesive used to glue the layers together.
Most of the Chinese manufacturers use formaldehyde as a component of the adhesive which, according to epa.gov is a dangerous volatile organic compound that will evaporate at room temperature, putting you and your family in harm's way.
Now, don't get me wrong, I am not trying to discredit bamboo as a green flooring option.
I strongly believe that, when purchased from a reputable source, bamboo is a very beautiful, strong, fairly green product.
But, if quality is what you're looking for, just like with any other environmental friendly products, you should expect to pay the price for it.
Cork Flooring
The green flooring most people ignore...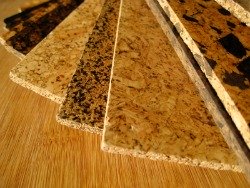 Cork Flooring - The Better Option
The first thing that comes to mind when somebody says cork is a bottle stopper.
While this is one of the many applications cork is being used for, it is definitely not the only one.
Some of the same characteristics that made it suitable as a bottle stopper make cork one of the best materials for flooring, as well.
Cork flooring, I believe, even though not as popular as bamboo is a greener product.
The main reason, for which cork is being considered a green flooring option, is that cork flooring is made out of the bark of the cork tree.
Removing only the outside layer of the tree and using it for flooring, allows the tree to regenerate in a few years and, of course, once it reaches maturity to be stripped off and reused for flooring again.
With a lifespan of over 150 years and a growing cycle of 6-9 years, there are about 15-20 potential harvestings out of each tree, therefore making it one of the most eco-friendly products available on the market today.
Besides being considered an environmental friendly floor, cork has a multitude of qualities that make it even more desirable:

Contact Us for a Free Flooring Quote
It is a very comfortable material
The millions of cells that compose a cubic inch of cork material make it a very good thermal insulator as well as an acoustical one. So, if you leave in a condo building and noise complaints are an issue, installing cork flooring will definitely solve the problem.
Cork flooring is available in a multitude of colors, sizes and installation patterns. If chosen properly and installed by a skilled flooring contractor, cork floors will dramatically improve the aspect of any room.
It is durable and "dent proofed"…
…Well, almost. The anatomy of cork allows it to compress under pressure, making it harder to dent in comparison to other types of wood. As soon as the pressure is being released, its elasticity allows it to comeback to its original shape. Its elasticity along with its resistance to environmental changes makes cork flooring one of the most durable types of flooring available.
Being a fairly moisture resistant product, allows it to be installed in areas of the home that are not normally wood floor friendly. Many kitchens, bathrooms and basements are covered with cork flooring because of this reason.
Cork flooring is an antistatic, hypoallergenic product which makes it very desirable between people with allergies.
It is almost fire-proofed
While fire-proofing is always a very relative quality a product can have, a quality that should never be put to test, cork is known as a fire inhibitor material. So, even though I strongly advise you to double check the stove before leaving the house, it is probably good to know that, with cork flooring, if something ever happens, precious minutes are gained before disaster strikes.
Cork Flooring

The reason behind the low density of cork is found in its tissue. Comprised mostly out of an air-like gas, the cork tissue is, also, very light...
Reclaimed Wood Flooring
The best green flooring, made here at home...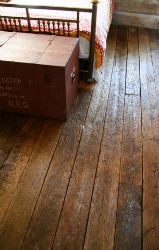 Reclaimed Wood Flooring - The Best Choice
Reclaimed wood flooring is becoming more and more popular, seeing increased demand throughout the country.
Reclaimed wood flooring is made out of wood collected from old buildings, sheds, pieces that are not used anymore for their intended purpose. Being aged for so long, this type of wood will easily adapt to its new environment.
Reclaimed flooring is the only type of wood flooring being produced without any negative environmental effects. This factor along with many others, some of which are its unique character and adaptability, make it very popular between green flooring customers.
It is also important to know that, while is the greener, most stable type of flooring, the material needed to produce it is not cheap to collect.
Its removal from old buildings requires careful demolition, using qualified work-force made out of people that are trained to collect and preserve this type of wood.
Because of its origins, the waste factor, during the manufacturing process increases considerably in comparison to other types of green flooring. A waste factor that exceeds 35-40% is not unusual in order to produce high quality reclaimed wood flooring.
In a society dominated by price and quantity, reclaimed wood flooring finds itself pushed out in a corner, sometimes. Still, just like in the case of organically grown food, alternative energy and sustainable lifestyle, the number of people understanding its importance is growing.
If you are one of these people, if you need wood flooring and would like something that is environmentally friendly, reclaimed is the word to look for.
Reclaimed wood flooring is made here, in USA, using American work-force, without sacrificing the environment in order to produce it. No trees are cut and no oil is being used to transport it across oceans. On top of it, its beauty and uniqueness will change the look of your home dramatically.
Go to Green Flooring top of the page or see below for more details about our process as well as other Chicago wood flooring articles.
You Should Also Know...
What Separates Us From the Crowd...
The completion of a flooring project is always associated with stress, big mess, lots of money and time invested by you, the homeowner. We understand this and developed a process designed to protect you from these "inconveniences". Please click here for details.
Buying a product backed by a strong warranty is very important for every single one of us. Many companies learned this litle secret and are using their warranty as an advertising tool, making promises they know they can't and will never keep. We believe that putting our money where our mouth is, would be the best way to prove that our warranty is not just a piece of paper. For more details, click here and read about our warranty and why we believe it will give you piece of mind.
As much as we try to give you an insight on all the in and outs of the flooring businees, as much as we try to help you make the right choice there are always going to be these details that belong to your house and your house only. These are the details we cannot anticipate, the things we cannot write about. For more helpful flooring advice as well as a free estimate on your upcoming project, please contact us.
Floor Refinishing Advice that Will Keep You Out of Trouble...
Many times, a flooring contractor will say anything to close a sale. But is he always telling you the truth? Understand floor sanding to avoid being scammed! More details here...
Sanding a hardwood floor? This is where your contractor will try to cut some corners. Read on for details...
Some flooring stains can be harmful for your health. But if you choose the right one, you can achieve stunning looking floors, without the negative side effects. Click here for more details...
Wood Floor Choosing Tips...
When it comes to engineered vs solid flooring, most people decide based on price. But is this the best way to make a choice? There is more to it than that... Understand the differences between the two, the pros and cons of each one of them and, most importantly which one is recommended for your house, prior to buying... Click here for details!
Design, wood species, durability and installation style will, all, play a role in the overall look of your home after the installation is completed. Get a grasp of these factors and how will they affect your wood floor for years to come... Click here for details!
There are hundreds of flooring types out there, from exotic to domestic, unfinished or prefinished, engineered and solid, green or not so green. With so many options to choose from, selecting one could feel overwhelming. But if you know what to look for and if you follow the proper steps, selecting wood floors can be easy and fun... For more details, click here!
Wood Floor Maintenance Advice...
Elegance and beauty are the main characteristics of a good wood floor. But without wood floor maintenance these specific qualities will soon start to fade. Take the necessary steps to avoid that from happening. Understand the do's and don'ts of floor maintenance and you will have a beautiful floor for many years to come! All the details here...