Hardwood Floor Sanding– Few Steps Your Contractor Will Try to Skip
Sanding a hardwood floor? This is where your flooring contractor will try to cut some corners.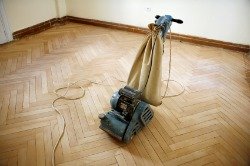 Floor Sander on Hardwood Floor
So, you finally decided to sand that old hardwood floor.
You shopped around for a little while, took some free estimates, did some research on the subject and eventually chose the contractor for your hardwood floor sanding project.
He probably came to your house, showed you some samples, talked about your options, told you how hard he is willing to work, until 9 pm, if necessary etc.
He seems like a reasonable guy, he has good references and his price wasn't that bad after all.
But, is he really gonna deliver on all his promises?
Is he actually going to take all the necessary steps to make sure you will get to enjoy that elegant, long lasting floor you've always dreamed to have?
The answer is… Most Likely No!
Truth being said, there are way too many contractors in the hardwood flooring business who are trying to make an extra buck at the expense of their customer. The faster you understand this, the better it is for you.
But you are a busy person, so let's get straight to the subject. What steps is your hardwood floor sanding contractor very likely to skip?
Here they are:
• Punching down the nails
This is one of the steps many contractor will skip on the old floors, trying to make the homeowner believe that sanding means only cleaning the old finish and replace it with a new one. Still, this is not a step you want him to skip during your hardwood floor sanding process.

Contact Us for a Free Flooring Quote
• Hardwood floor sanding on diagonal
This is a step that 20 years ago used to be common practice. Nowadays, most of the contractors consider this step unnecessary.
After all, in their eyes, you are just an amateur that has neither the eye, nor the knowledge to tell the difference between a floor that was sanded this way and one that wasn't.
For more details about the importance of this step, please take a look at the process of hardwood floor sanding
• Vacuuming before the wood filler application
I cannot stress enough over how important this step is for the success of your hardwood floor sanding project.
A floor that wasn't vacuumed prior to the application of the filler is a floor that will have plenty of cracks only six month after the floor sanding will be finished.
The reason being simple: the wood filler didn't fill the crack properly, because the crack was filled with dust.
Since the wood filler is sitting on top of dust, in time that dust will come out and will push the wood filler out of the opening too.
Floor Refinishing: Refinishing a hardwood floor can be very toxic. Many types of floor finish contain volatile organic compounds.VOC's are known to have chronic effects. In order to avoid any respiratory problems after sanding a hardwood floor, it is advisable to ask your contractor for VOC free products.
• Covering the entire floor with wood filler
While most of the contractors will apply some wood filler (on the most obvious areas), very few will actually cover the whole floor, making sure they don't miss a spot.
If you wanna have a floor that looks like new, this step is a must.
• Hand sanding after scraping the floor
Scraping the floor in the inaccessible areas it is a must. While being a very important step during the sanding process, scraping the floor is not enough in order to achieve a beautiful finish.
Hand sanding, after scraping, is a must in order to achieve a nice smooth surface.
• Applying all the promised coats of finish

Contact Us for a Free Flooring Quote
Most of the contractors will promise you 3 coats of polyurethane, Swedish finish or water based finish in an attempt to persuade you to choose them.
While some types of finishes require 3 coats, to ensure a successful sanding job, others require less.
Still, many contractors will never tell you the truth about floor finishes, will always try to convince you that they are offering you a very good deal, and in the end will deliver less than half of what they promised.
In order to avoid this from happening, a good rule of thumb would be to ask for the dates of the application for each individual coat.
Applying two coats of finish is possible for some types of finish, applying 3 is not.
If your sanding contractor will tell you that they will apply 3 coats of finish in one day, run as fast as you can. If he will apply two coats in the same day he is sanding the floor, and the second coat is final, run again.
Hardwood floor sanding, when done right, is a time consuming job. Do not give your hard earned money to a Chicago flooring contractor that is not willing to put in the necessary time and effort to finish your job properly.
Go to Hardwood Floor Sanding - Steps Being Skipped top of the page or see below for more details about our unique process as well as other Chicago Hardwood Flooring articles
You Should Also Know...
What Separates Us From the Crowd...
The completion of a flooring project is always associated with stress, big mess, lots of money and time invested by you, the homeowner. We understand this and developed a process designed to protect you from these "inconveniences". Please click here for details.
Buying a product backed by a strong warranty is very important for every single one of us. Many companies learned this litle secret and are using their warranty as an advertising tool, making promises they know they can't and will never keep. We believe that putting our money where our mouth is, would be the best way to prove that our warranty is not just a piece of paper. For more details, click here and read about our warranty and why we believe it will give you piece of mind.
As much as we try to give you an insight on all the in and outs of the flooring businees, as much as we try to help you make the right choice there are always going to be these details that belong to your house and your house only. These are the details we cannot anticipate, the things we cannot write about. For more helpful flooring advice as well as a free estimate on your upcoming project, please contact us.
Floor Refinishing Advice that Will Keep You Out of Trouble...
Many times, a flooring contractor will say anything to close a sale. But is he always telling you the truth? Understand floor sanding to avoid being scammed! More details here...
Sanding a hardwood floor? This is where your contractor will try to cut some corners. Read on for details...
Some flooring stains can be harmful for your health. But if you choose the right one, you can achieve stunning looking floors, without the negative side effects. Click here for more details...
Wood Floor Choosing Tips...
When it comes to engineered vs solid flooring, most people decide based on price. But is this the best way to make a choice? There is more to it than that... Understand the differences between the two, the pros and cons of each one of them and, most importantly which one is recommended for your house, prior to buying... Click here for details!
Design, wood species, durability and installation style will, all, play a role in the overall look of your home after the installation is completed. Get a grasp of these factors and how will they affect your wood floor for years to come... Click here for details!
There are hundreds of flooring types out there, from exotic to domestic, unfinished or prefinished, engineered and solid, green or not so green. With so many options to choose from, selecting one could feel overwhelming. But if you know what to look for and if you follow the proper steps, selecting wood floors can be easy and fun... For more details, click here!
Wood Floor Maintenance Advice...
Elegance and beauty are the main characteristics of a good wood floor. But without wood floor maintenance these specific qualities will soon start to fade. Take the necessary steps to avoid that from happening. Understand the do's and don'ts of floor maintenance and you will have a beautiful floor for many years to come! All the details here...