Walnut Hardwood Floor with Maple Border - Nailed Down Installation
Are hardwood flooring borders, something you had in mind...?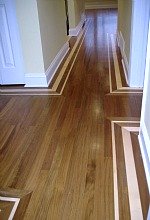 Walnut Floor with Maple Border
These pictures are from a Chicago home we had to install in 2006.
The floors had been installed using the nailed down installation method.
Hardwood Borders Will Make Your Home Unique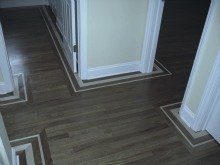 Chicago Custom Flooring
The secret for a good looking border relays in designing the right one for your home.
The size of the room needs to be in sync with the width of your flooring boards as well as the overall width of your hardwood border.
Important Things to Know About Borders
Using a lot of adhesive is essential when installing a flooring border.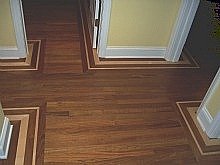 Good Nailed Down Floors Will Last Forever
The best way to install it, in my oppinion, is by using a combination of nailed down - glue down methods.
The difference between a nightmare and a succesful wood flooring project stays in the small details.
Once the project is completed, all floors look the same but, give it 6 months to a year and the improperly executed project will start showing its true colors.
Squeacks and cracks are the most common issues a homeowner has to deal with after hiring a bad flooring contractor.
Expansion, Expansion, Expansion...
Expansion gaps are essential for the future of your flooring project.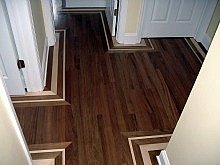 Expansion Gap is Essential for Lasting Floors
Even though you can't really tell from this pictures, the space we've left around the walls, between our floor and the drywall is considerable.
This eliminates future problems like, squeaking or buckling.
Moisture Control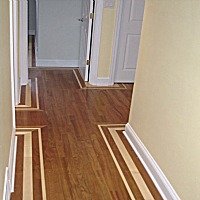 Walnut and Maple, an Exquisite Combination
Moisture control is very important when installing a hardwood floor.
Be sure to understand the details between the different types of floors and, most importantly, understand which one is the most suitable for your home.
Not all wood floors are made the same and not all of them will fit your home.
Choosing the right floor will be the first step towards that beautiful wood floor you've been dreaming for, for so long.