Our Story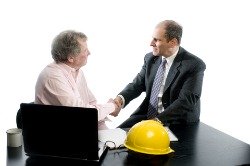 We Know What You Want
Trusting a Chicago flooring contractor with your home for a few days is not an easy thing to do...
Are they going to get the job done right? Are they gonna protect your home properly? How about their warranty? Are they gonna deliver on it?
These questions as well as many other will come to mind prior to hiring a flooring contractor.
We understand all these which is why we've decided to give you a glimpse at our past.
Hopefully, this will give you an idea on who we are and how we got here.
The Beginnings
It All Started in The 90's

In 1999, we've started working for a flooring company here in Chicago.
For about 4 years, until 2003, we learned all the tricks of the flooring business, right there where it matters, in the field:wood flooring installation, hardwood sanding, refinishing and more...
The One Thing We've Noticed...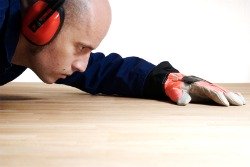 Quality Control Is Essential
While working in the field, in those four years, we've noticed something that is still very obvious today for every person that decides to start a flooring project or almost any type of home improvement project for that matter: the complete lack of interest in quality on the side of the company owner. Their lack of care for the homes we were working in was mind boggling to us.

Thinking that our boss was an exception, we started asking around and found out that almost everyone had the same approach.
"Go in, finish it quick, get paid and get out. "

2003 – First Steps as Chicago Wood Flooring Business Owners
Realizing the need for a company that cares for their customers, we've decided to start our own small flooring business.
We knew right from the begining that we needed to implement a diferent process than the one used by most flooring contractors.
To Read More About Our Unique Aproach, Please Click Here!
Our first crew was made out of two people, the two of us, and our tools were basic, second hand tools.
Even though, doing the installation, finishing, marketing and taking phone calls in the same time seemed overwhelming at times, we were determined to succeed in offering Chicagoans the wood flooring services we believed they deserved.

Contact Us for a Free Flooring Quote
With very small steps and generating most of our business from referrals we managed to get through 2003, surviving what we believed was going to be the hardest test: the beginning.

By the end of 2003, we managed to save enough money to upgrade our tools and hire the two extra people that we desperately needed.
See What Our Customers Have To Say About Us!
2004 – 2005 New Tools, Employees and New Ideas
The new tools we managed to buy with some of the money saved in the previous year allowed us to start working faster, cleaner and more efficient.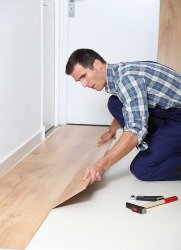 Good Installers are Not Easy to Find
The two people we added to the crew, allowed us to take a step back from the business and take the time to analyze.
What could we improve, what area of this business could we change to offer you, the customer, more value for your money?

This is when we realized the importance of flooring cleats, and their positive impact in the life of a hardwood floor, in comparison with the flooring staples everybody uses all the time.
The grooves on the side of the flooring cleats are designed to ensure that the wood fiber will hold the cleats in place way longer than it would hold the flooring staple. This would ensure a long lasting floor, free of squeaks and major cracks unmatched by any flooring staples available on the market.
By switching from flooring staples to flooring cleats we knew we were going to install stronger wood floors, free of squeaks for a much longer period of time.
So we did so…
Contact Us For a Free, No Obligation, Estimate!
Formaldehyde, a component in the adhesive used by some flooring manufacturers, is a known VOC, which means it will slowly evaporate in the air putting you and your family in harm's way?
2006 – Two More People Come On Board
The quality of our work started paying off and the number of requests kept on increasing. In order to keep up with the high volume of requests from our customers, we've decided to add two more installers to the crew.
Please click here to read our story part 2
or
Go to Our Story top of the page, or see below to learn more about flooring as well as our company
You Should Also Know...
What Separates Us From the Crowd...
The completion of a flooring project is always associated with stress, big mess, lots of money and time invested by you, the homeowner. We understand this and developed a process designed to protect you from these "inconveniences". Please click here for details.
Buying a product backed by a strong warranty is very important for every single one of us. Many companies learned this litle secret and are using their warranty as an advertising tool, making promises they know they can't and will never keep. We believe that putting our money where our mouth is, would be the best way to prove that our warranty is not just a piece of paper. For more details, click here and read about our warranty and why we believe it will give you piece of mind.
As much as we try to give you an insight on all the in and outs of the flooring businees, as much as we try to help you make the right choice there are always going to be these details that belong to your house and your house only. These are the details we cannot anticipate, the things we cannot write about. For more helpful flooring advice as well as a free estimate on your upcoming project, please contact us.
Floor Refinishing Advice that Will Keep You Out of Trouble...
Many times, a flooring contractor will say anything to close a sale. But is he always telling you the truth? Understand floor sanding to avoid being scammed! More details here...
Sanding a hardwood floor? This is where your contractor will try to cut some corners. Read on for details...
Some flooring stains can be harmful for your health. But if you choose the right one, you can achieve stunning looking floors, without the negative side effects. Click here for more details...
Wood Floor Choosing Tips...
When it comes to engineered vs solid flooring, most people decide based on price. But is this the best way to make a choice? There is more to it than that... Understand the differences between the two, the pros and cons of each one of them and, most importantly which one is recommended for your house, prior to buying... Click here for details!
Design, wood species, durability and installation style will, all, play a role in the overall look of your home after the installation is completed. Get a grasp of these factors and how will they affect your wood floor for years to come... Click here for details!
There are hundreds of flooring types out there, from exotic to domestic, unfinished or prefinished, engineered and solid, green or not so green. With so many options to choose from, selecting one could feel overwhelming. But if you know what to look for and if you follow the proper steps, selecting wood floors can be easy and fun... For more details, click here!
Wood Floor Maintenance Advice...
Elegance and beauty are the main characteristics of a good wood floor. But without wood floor maintenance these specific qualities will soon start to fade. Take the necessary steps to avoid that from happening. Understand the do's and don'ts of floor maintenance and you will have a beautiful floor for many years to come! All the details here...