2006 – Two More People Come On Board
The quality of our work started paying off and the number of requests kept on increasing. In order to keep up with the high volume of requests from our customers, we've decided to add two more installers to the crew.
2007 – A Warranty for Your Piece of Mind
The high quality of service we offered, allowed us to introduce the "three year warranty" on labor along with a "three months - money in the bank warranty".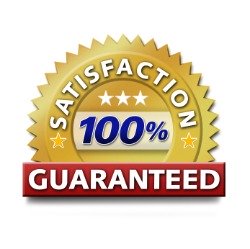 A Warranty For Your Piece of Mind
To explain this further, because we realized that most of the problems with hardwood flooring are being discovered by the customer within the first few weeks after completing the project, we decided to let the customer keep 10% of our labor mark-up for three months, as a warranty that we will immediately address any issues you might have upon finishing the project.
To this day there is no other company on the market that we know of to match this warranty.
To Read More About Our Unique Aproach, Please Click Here!
Same Year, the High-Rise Solution…
An increased demand for floating floors in the high rise buildings determined us to start working on creating a solid floating subfloor to install "nailed down hardwood flooring" on top of it.
At that point, most of the high rise buildings in the area were getting regular engineered clicked in floors or engineered glued down floors.
The need for nailed down hardwood floor, could not be filled due to the two requirements of every high rise association in Chicago: sound proof flooring and "no nailing to the concrete" policy.
This is how; the floating plywood subfloor was created. Our floating plywood subfloor consists of one layer of "soundproof barrier"; two layers of 3/8'' plywood interconnected in an overlapping pattern, screwed and glued together to create one solid, floating subfloor to which the hardwood floor is being nailed.
With the creation of this subfloor the two problems, high rise condo owners were facing when trying to get nailed down hardwood flooring, have been eliminated.
See What Our Customers Have To Say About Us!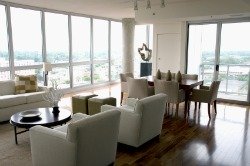 High-rise Flooring: The Sky is The Limit
Our floating hardwood floor is one of the best sound proofed floors in the business, with the sound "traveling" between the floor; subfloor; the layer of "sound proof barrier" and the concrete underneath without being transferred to the units bellow.
Needless to say that, by building the two sheets of floating subfloor, we managed to create a nailed down hardwood floor without nailing to the concrete, therefore solving the other issue the homeowner had when trying to install hardwood floor in high rise buildings.

2008 – 2009 Cleaner Projects For You and One More Employee For Us

In a continuous attempt to stay ahead of the competition and meet our customer's needs better and better we decided to add a cleaning crew to the company as well.

Contact Us for a Free Flooring Quote
With this move, we managed to eliminate the last problem every homeowner faces when starting a flooring project: the dust.
Now we can proudly say that, while dust is something you can't eliminate completely during a flooring project, the project we leave behind after we finish is, most likely, the cleanest you will ever get from a flooring company.
Also, the same year one more employee had been added to our crew.
Contact Us For a Free, No Obligation, Estimate!
2010 – No More Toxicity for Our Customers
Toxicity had always been an issue when it comes to floor sanding.
Even though we've tried to solve this issue for a long time, none of the products we've tried passed our quality test.
No More Toxicity After Floor Refinishing
They were either strong but full of harmful VOC's or they were free of VOC but not strong enough to last a long time.
Finally, after many years of searching 2010 brought us the answer we were looking for: Monocoat, the only "all-natural oil wood floor finish" on the market.

The "VOC-free (free of Volatile Organic Compounds), completely non-toxic oil finish of extraordinary durability". The only product available on the market that requires a one coat application, it is easy to touch up and resists better than any other types of finish to the exposures to different damaging materials like: water, wine, cola, coffee, oil, urine etc.
During the resistance tests the flooring showed "slight damage of the finish to no damage at all" after a 24 hours period of exposure to the damaging material.
There is no other product on the market that we know of, able to resist so much exposure to a damaging agent. With the addition of Monocoat to the collection of products we offer, our company managed to eliminate two other problems the homeowner was facing when trying to refinish a hardwood floor: timeliness and toxicity.
Go to our story top of the page, or click here to contact us for a free, no obligation, estimate.
You Should Also Know...
What Separates Us From the Crowd...
The completion of a flooring project is always associated with stress, big mess, lots of money and time invested by you, the homeowner. We understand this and developed a process designed to protect you from these "inconveniences". Please click here for details.
Buying a product backed by a strong warranty is very important for every single one of us. Many companies learned this litle secret and are using their warranty as an advertising tool, making promises they know they can't and will never keep. We believe that putting our money where our mouth is, would be the best way to prove that our warranty is not just a piece of paper. For more details, click here and read about our warranty and why we believe it will give you piece of mind.
As much as we try to give you an insight on all the in and outs of the flooring businees, as much as we try to help you make the right choice there are always going to be these details that belong to your house and your house only. These are the details we cannot anticipate, the things we cannot write about. For more helpful flooring advice as well as a free estimate on your upcoming project, please contact us.