Are Herringbone Floors Easy to Install?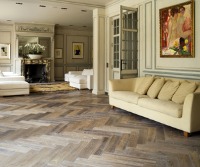 Herringbone Floors - Any Effort Involved It's Worth It
How Easy to Install are Herringbone Floors?
Asked by Steve S. in Barrington, Illinois
Herringbone floors are far from being easy to install. As a matter of fact, along with chevron flooring and parquet floors, herringbone flooring is one of the hardest floors to install, which is one of the reasons why the installation cost for a herringbone floor is so high in comparison to other types of floor installation.
Herringbone Flooring for Less
Have this exquisite, hard to get, floor installed in your house tomorrow. Contact us now, for a free, no obligation, estimate. Our relationships with the biggest regional flooring distributors, have allowed us to provide Chicago land customers with the most affordable, high quality products one can get.
Return from are herringbone floors easy to install to the homepage