Are Herringbone Floors Expensive to Install?
Asked by Mike S., Arlington Heights, IL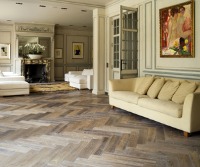 Herringbone Floors are Beautiful but Pricey
Find out why herringbone floors require a big investment and why you shouldn't go for this floor, unless you have the funds to do it right...
Yes, installing herringbone floors will run you way more than installing a regular straight hardwood floor.
There are few reasons that make installing a herringbone floor pricier, and I will outline below, only a couple of them, mostly because of space issues.
Much Bigger Waste Factor on Both Materials and Time
The waste factor on a straight hardwood floor installation, can be kept fairly low by an experienced floor installer, since the left over from every board used to end a row, can and should be used to start a new row.
On a herringbone floor, however, the end as well as the begining of every row, is a triangle, that gets smaller and smaller as you approach the wall.
Since the lenght of all the herringbone floor boards is identical, cutting boards to fit the "triangle" will result in big left over pieces.
One way to reduce the waste factors, would be to cut and use a board more than once, which is possible to a certain extent. However, that is time consuming and, since time is always money, what you save on materials, you are very likely to spend on labor.
Installing Herringbone Wood Floors, Requires Real Craftsmen
Herringbone floors are expensive floors.
With this being said, the last thing you wanna do is, spend a small fortune on herringbone wood flooring, and have some wanna be hardwood flooring contractor install it.
There are so many things that can go wrong when installing a hardwood floor, if you choose the wrong flooring contractor, you are almost certainly heading for a disaster.
And, since good craftsmen are not many, the ones that are out there, are ussualy very busy. Since price is always an indication of supply and demand, the price of a good herringbone installer, is not small.
Just so you understand, what I'm talking about, here are some issues you are very likely to run into, if you choose to install the herringbone floors yourself, or choose some cheap floor installer to do it for you:
Crooked Lines
Starting with a straight line is a requirement, regardless of the type of wood floor you are about to install.
However, when it comes to herringbone floors, it is mandatory that you start with not just a straight line, but a perfectly straight line.
While that sounds easy to do, I can almost guarantee that, unless you are proficient with this type of installation, when doing both herringbone or chevron floors, you will be off the line, by at least 1/16th of an inch, before you put down your 5th or 6th board.
1/16", you say, that's nothing... Well, my friend, I'm here to tell you that, depending on the size of your room, your16th of the inch, could turn into a line that is a good inch or two, of the line you've originally snapped.
And, if that looks bad on a straight wood floor installation, when it comes to herringbone installation, looks terrible.
Improper Tongue and Groove Connection
Herringbone boards are supposed to close at a 90 degree angle, and whenever that's done properly, the boards will lign-up perfectly on top of each other.
However, most people, have a hard time making the boards close at 90 degrees so, after strugling for a while, they will end up deciding that 89 degrees or so, works as well.
That 1 degree difference, will not allow the boards to close properly and, while an experienced contractor will recognize it immediately and correct the problem from the very begining, the person that doesn't know herringbone floors, will try to nail the heck out of it, untill the boards close without aparent gaps.
However, this task will require more and more hammering with every board installed, the very small gaps will get slightly bigger as they move forward with the installation, and by the end of the row, the gaps will be so big they will stand out like a sore thumb.
You would think that, by now, your flooring contractor will realise he's got a problem and remove the line, in order to start a new line, the right way. Think again.
Your flooring contractor, by now, is in a time crisis, and with his lack of knowledge, he will manage to convince himself that he can fix this problem as he moves forward.
Well, herringbone floors have a tendency to make the problems get worse as the installation goes on so, by the end of the project, both you and your contractor will regret making the choices you made with this project.
I could go on and on, about the issues that can be encountered with a herringbone floor, but I will stop here, hoping that I managed to convince you to start a herringbone project only if you can afford it.
Otherwise, please choose a more affordable floor. There are plenty of ways to make a floor unique, other than herringbone.
Return from "are herringbone floors expensive to install" to the homepage