How to Choose Hardwood Floors by Property Type
Not Every Wood Floor Works in Your Home...
Understand the Differences Between Them, Before You Buy Your New Wood Floor!!!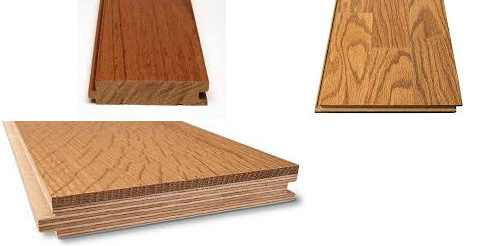 Hardwood, Engineered or Laminate? What Option is Best for You?
Not every wood floor is suitable for your house. Choose the one that fits your home best and you'll get to enjoy it for many years to come. Make the wrong choice and you'll find yourself dealing with a variety of problems from the beginning of your project.
You don't understand what I mean by this? Don't worry, you are not alone but, I promise you I'll help you understand by the end of this page.

So, let's see what your flooring options are...
Wood Flooring Options for Single Family Homes
If you are like most of my customers, you are living either in a condominium or in a single family home.

If you live in a single family home, your options are simple; you can choose whatever type of wood floor you want.

There aren't that many restrictions; you are only limited by the amount of money you are willing to invest in this flooring project.
Breath Taking Walnut Floors
So, flooring options for single family homes from best to worst:
Hardwood Flooring
Engineered Wood Floors
Laminate Floors
You are only limited by the amoungt of money you're willing to spend.
Wood Flooring Options for Condominium Owners
If you live in a condominium building, you'll soon find out that there are many rules you need to follow and many neighbors to take into account, before deciding which wood floor to pick for your home.

There are rules and regulations, and they usually require you to make sure your hardwood floors are noise proofed; there is a moisture barrier as well as a sound barrier and very often, you are not allowed to nailed into the existing subfloor altogether.

Now, when you look at the problem from this perspective, you realize that your options are being limited a little.
So, let's take a look and find out....
Hardwood Floors on Condominium Buildings
Most flooring contractors will tell you that hardwood floors are prohibited in condominiums. As a matter of fact, most homeowner associations will tell you the same thing.
Why? Because when they say hardwood flooring, they imediately think nails into the concrete. Since nailing into a concrete subfloor is generaly prohibited, in condominium buildings, people quicly assume that hardwood floors in a condominium is prohibited.
They are wrong and I am here to tell you that I've installed thousands of square feet of hardwood floors in high rise buildings.
So, installing hardwood floors in a condominium is a very viable option.
The only requirements are:
No nailing into the existing concrete
Have a sound barrier that meets the association requirements
Both these requirements can be met, however, this is the most costly option when it comes to hardwood flooring inside a condominium unit.
Since this is the case, unless you can afford to pay thousands of dollars for your subfloor alone, you might want to look at the other flooring options you might have...
Engineered Floors for Condominiums
Engineered floors are the most common wood floors inside condominium units.
Beautiful Oak Engineered Floors
They were created for this purpose alone, are very suitable for this environment and will last you a long time if you choose a good product.

As you shop for engineered floors, you'll soon find out that, in your case, you can only have them installed either glue down or floating.

Very important detail – If you go for the floating engineered wood floors, which is the most affordable option you can go for, do not choose the ones that gets glue inside the tongue and groove.

This is the one option, many flooring contractors love, but is the one option you should stay away from.

The bond between the rows, it simply isn't strong enough using this method. Just so you can understand, what I'm talking about, would you ever consider using Gorilla Glue on one of your car's wheels if the screws on it gave in?
Chances are you wouldn't.
This is pretty much what these engineered floor manufacturers are proposing you, when saying that their floor will stay in place using adhesive between tongue and groove alone.
What Engineered Floors Should I Use, Instead?
If floating engineered flooring is what you're after, go for a click in wood flooring, instead.

My all-time favorite, in this department is Kahrs flooring.
They are the champions of click-in floors, I've never seen their Woodloc System fail, which is why I recommend them with all my heart.

However, if this is what you wanna go for, make sure you hire a contractor that is familiar with this product. The last thing you want is a contractor that will start undercutting the tongue of these boards and using adhesive to hold them together, because he doesn't know how to close them.
If, on the other hand, you'd preffer a glue down engineered flooring, my sugestion is, go for a Mirage floor.
Kahrs and Mirage are, bar none, the best engineered floors you can find out there.
While they might cost you a little more than what you find at some chain retail stores, please take my word for it, they will last you many times longer than most other brands out there.
Next On The List, Laminate Floors...
Laminate floors are the option to go for, if you cannot afford a good engineered wood floor.

I say a good engineered wood floor, because anyone can afford an engineered wood floor.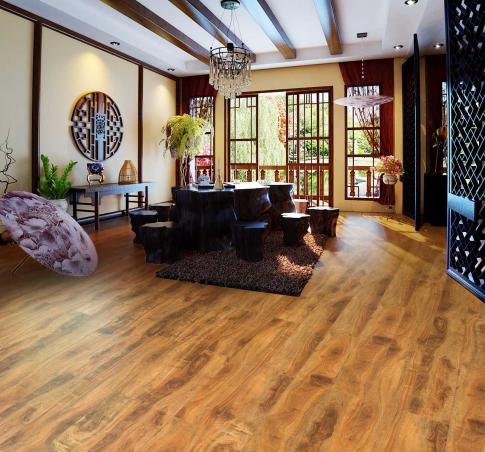 Laminate Flooring Doesn't Have to Look Common
But, unless you can afford to buy from a reputable engineered floor manufacturer, you are better off buying laminate flooring.

Beware though, as I said before, even in the case of laminate flooring, the last thing you wanna do is buy something overly cheap.

Think about it for a second, you are paying the same amount of money on labor, regardless of the quality of your floor.
Sometimes, you'll probably end up paying more on labor for having a cheap floor installed, than you would pay for having a good laminate floor installed.

So, after spending all these money on labor, do you think you'll be in the mood to do it again in three years or less?
Because, if you buy one of those 60-70 cents laminate floors, you will, most likely, have to do it again, sooner than you can imagine.

So, to sum it up:

Wood Flooring Options for Single Family Homes:
Hardwood Floors
Engineered Floors
Laminate Floors - not a wood flooring option, an alternative…
Wood Floor Installation Options for Single Family Homes
Nailed Down Method – Needs a plywood subfloor
Glue Down Method – Recommended only for engineered hard wood floors
Floating Method – Works for both engineered and laminate
Wood Flooring Options for Condominium Buildings
Hardwood Flooring - if you can afford it. Most of the time, requires plywood subfloor installation, since there will be a concrete subfloor in place.
Engineered Floors – Most used floors in condominiums flooring due to its applicability as well as quality.
Laminate Flooring - not a wood flooring option, an alternative…